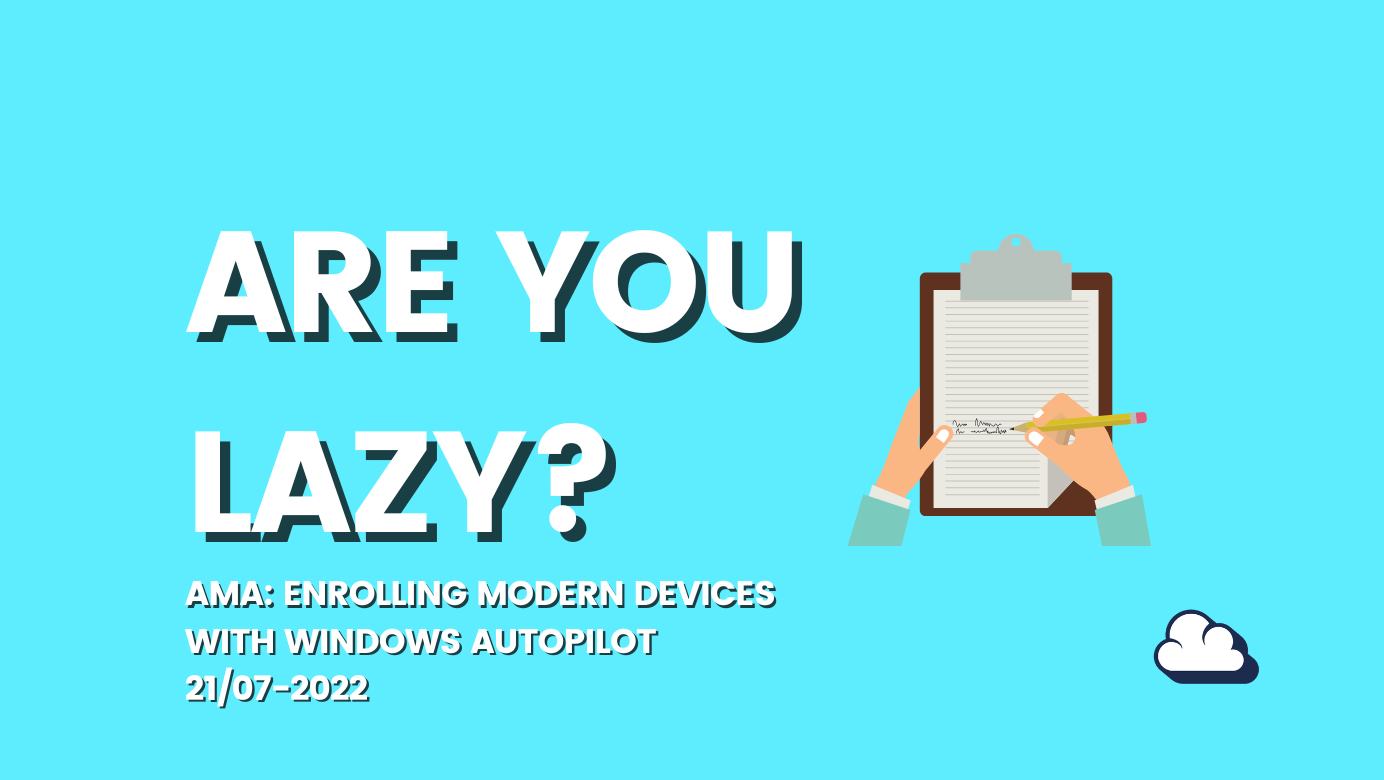 Read my notes from Microsoft's AMA, which focus on Autopilot.
Table of Contents
Notes from the most recent Ask Me Anything (AMA) with Joe Lurie, Danny Guillory Jr. (Senior PM. Focus on cloud attach), and Juanita Baptiste (Autopilot PM). Thank you to everyone who gave us great information and answered our questions.
Date: 21/07-2022
💡Misinterpreted warning
These are my own notes from watching the video, so please don't blame anyone for anything.
Highlights
Restoring functionality, Multiple pre-provisioning, Self-deployment, and assigning users to a device will come back.
Microsoft is working on a solution to deploy quality updates. (exciting!)
Imaging with Autopilot❓❓ (sounds like a hint, but it could be nothing)
A temporary access pass with Autopilot is being investigated (on the road map)
An algorithm will check for Delta if it should be a member of Autopilot again. For instance, if the motherboard is replaced, the backend will try to fix it for you. (called "Auto remediation").
Rest of my notes
Simple deployment is essential.
(ESP) Don't overload ESP, else it will result in lower deployment times.
(ESP) ESP enablement is org-specific and may not be needed if deployment only contains lightweight applications. (quickest deployment)
(ESP) Microsoft recommends enabling ESP for users who require a personalized experience.
The fastest deployment time with Autopilot seen in the wild is approximately thirty minutes or less (simplified deployment).
It is vital that IT admins deregister devices from Autopilot if they are to be reused by anyone other than the original tenant.
Required boot pin with Autopilot is not something on the road map right now. Microsoft recommends Windows Hello for Business. (but noted)
A seamless experience for the user is important.
If you use ConfigMgr for management, you should definitely use CMG.
Hybrid Azure AD Join Co-management with Autopilot removed (PM decision, too much dependencies)
Switching ConfigMgr workloads to Intune depends on the customer. If you want to get value quickly, you should start with conditional access.
Help customers think for themselves by being a trusted adviser. So they understand the value.
We are taking a look at expanding the custom schema for renaming. (Scripts would be the solution to satisfy each organization. Microsoft recommends we move away from our addiction to device names)
Pre-provisioning is recommended, especially if low bandwidth is a factor. And don't configure too many user-specific configurations and applications.
Autopilot is a cloud concept but needs an Azure AD object to hang on to before it knows it needs to be in a hybrid state. You can delete the Azure AD object, but it won't be deployed by Autopilot at the next reset. (Would require backend change)
Autopilot does not plan to remove bloatware from OEMs (recommended buying an Autopilot-ready device)
Check out the AMA here
---