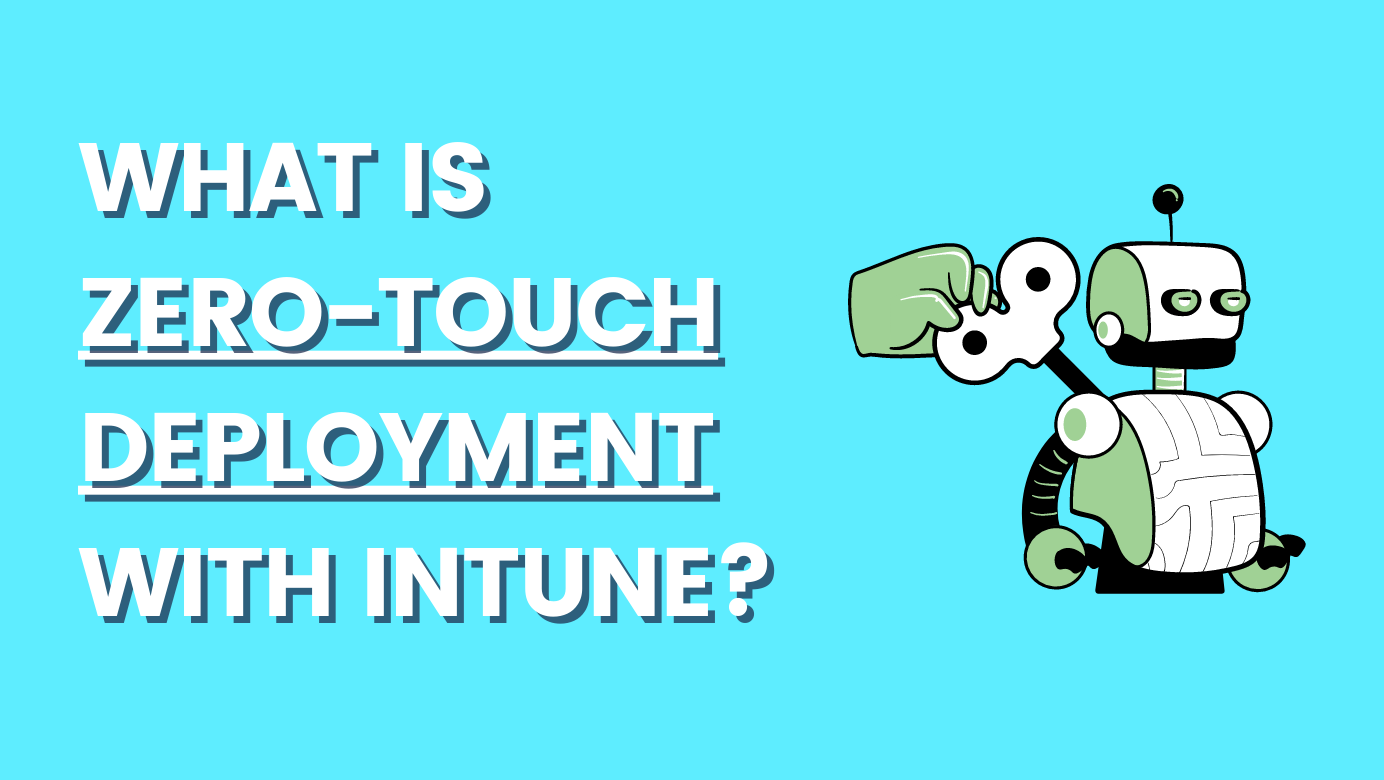 What is Zero-touch deployment with Intune?
Table of Contents
First, let's understand the problem. For a long time, we have been deploying our devices manually for the price of 1000+ hours so our users would be ready for work. We all know the term "time is money", then we started finding ways of doing things faster. Tools evolved but could never really live up to the demand. The global COVID pandemic created a colossal challenge logistics were turned upside down. We were used to ordering stacks of new computers and combining the deployment with automated tools and manual procedures.
Let's talk about Zero-touch deployment programs with Endpoint Manager Intune.
What about the license?
My experience with all three is that it is free and does not cost extra. You only need an Intune license, where you manage everything and use each program as deployment. Basically, the program will tell which device should talk with Intune and become managed out of the box.
What is Zero-touch Deployment?
In January 2020, platform owners injected the move toward Zero-touch Deployment with a powerful catalyst. Zero-touch deployment is a term that is available on all platforms, including Windows, Android, and Apple, which I will now explain.
The Zero-touch deployment life cycle:
Purchase (Purchase devices for deployment from a zero‑touch vendor or reseller)
Assign (In the zero‑touch online platform, assign your purchased devices to users)
Configure (Configure Intune policies to meet your organization's needs like compliance and security)
Deploy (Device will automatically enroll with Intune and apply policies when powered on)
Repurpose (Redeploy for reuse)
Android for Enterprise
Android zero-touch enrollment offers a seamless deployment method for corporate-owned Android devices making large-scale roll-outs fast, easy and secure for organizations, IT, and employees. Zero-touch makes it simple to configure devices online and have them shipped with enforced management so employees can open the box and get started.
Source: Android – Android Enterprise Zero-touch enrollment.
Apple Business Manager
Apple makes it easy for IT teams to administer devices, manage their configuration, distribute apps and content, and secure corporate data. With Apple Business Manager, devices can be distributed directly to employees and used right out of the box, all without manual configuration. And with flexible deployment models across all Apple platforms, IT can get employees up and running faster than ever with the best tools for the job.
Source: Apple at Work Deployment and Management.
Windows Autopilot
Windows Autopilot is a collection of technologies used to set up and pre-configure new devices, getting them ready for productive use. Windows Autopilot can be used to deploy Windows PCs. You can also use Windows Autopilot to reset, repurpose, and recover devices. This solution enables an IT department to achieve the above with little to no infrastructure to manage, with a process that's easy and simple.
Source: Overview of Windows Autopilot | Microsoft Docs.
Thank you for reading. I hope it has given you a better understanding. Feel free to ask any questions regarding this topic in the comment section.
---